Welcome to Cascade Mudjacking

Call 303-840-4725 for your free estimate

Mudjacking and Concrete Repair Service

Denver, Colorado & The Front Range
CASCADE MUDJACKING PROVIDES A

COST-EFFECTIVE METHOD IN

RAISING CONCRETE FOR

DRIVEWAYS

WE'RE GOING TO PUMP YOU UP!
Colorado Mudjacking service areas include: Denver, Aurora, Castle Rock, Parker, Metro Denver, Franktown, Elizabeth, Lone Tree, Littleton, Centennial, Douglas County, The Front Range, Denver Metro Area.
Concrete mudjacking is a safe and cost effective method to raise sunken concrete back to its original height. Cascade Mudjacking makes concrete repairs, fixes sunken driveways, sidewalks, patios, basement floors, garage floors, voids, porches, and even warehouse floors. If you're experiencing sunken concrete slabs on your property in the Denver Area call Cascade Mudjacking TODAY at 303-840-4725, and get your property back to its original state before additional damage occurs!
What is Mudjacking?
Mudjacking (or Mud Jacking), sometimes called concrete raising, concrete lifting, slabjacking, or concrete stabilization is a very straightforward, cost effective and efficient concrete repair process which involves injecting concrete material into a 2 inch hole below sunken concrete slabs. Cascade Mudjacking injects concrete to fill the void beneath the slab that is causing it to sink and pressurizes, or hydraulically lifts, the slab up to a level position. The process takes just hours to complete so you'll be using the area again just hours after we raise it. NO WAITING for new concrete to cure as in replacement (usually 28 days).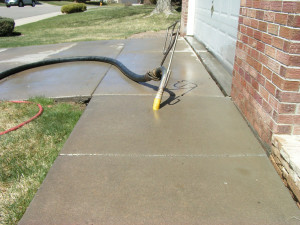 Concrete Mudjacking Saves You Money
The cost of Cascade Mudjacking services varies by size, condition and the amount of sinking, but usually costs about 1/2 to 1/3 the cost of putting in a new replacement slab and avoids the additional related costs for demolition and removal of the old slab. Concrete repair is the way to go.
Mudjacking Reduces Liability and Accidents!
By removing hazards caused by sunken concrete, you can eliminate accidents that may bring liability suits! No more hitting cracks when you're shoveling snow!
Mudjacking causes Less Mess than other concrete repairs!
No concrete to break up and haul away, no forming, and no damage to surrounding lawn of shrubs!